In 1978, our founders, Jimmy and Janet Dorrell bought a deteriorating house in the middle of a blighted neighborhood in North Waco, leading to the creation of Mission Waco as we exist today.
How Mission Waco Came to Be
In 1978, Jimmy and Janet Dorrell bought a deteriorating house in the middle of a blighted neighborhood in North Waco. Based on their understanding of incarnational ministry, they sensed their vocational call was to live among the poor and help bring "good news" through relationships and empowerment opportunities. The couple began offering children's and teen clubs each week in their home, meeting neighbors and providing assistance to those struggling in the community.
Jimmy left for a short time (1979-1982) to work in a church in Houston while Janet stayed to serve in their neighborhood and graduated from Baylor. Janet and Jimmy traveled around the world, an experience which opened their eyes to the enormous needs of the hungry, the poor and the unevangelized around the globe. They then looked to Waco—home to large numbers caught in the throes of poverty. Following a strong conviction to return to this community rich in possibility, numerous local churches and Christian students at Baylor, they planted their roots and began developing relationship-based ministries.
In 1991, after years of an informal neighborhood ministry, the Dorrells created Cross Culture Experiences, Inc. a nonprofit Christian organization designed to help students leave the comfort of their own cultural experiences and come to understand and love the poor and marginalized. A "poverty simulation," out-of-country "exposure trips" and a few neighborhood Bible clubs filled their time since the couple was bi-vocational. In less than a year, a Christian foundation (Christian Mission Concerns, established by Paul and Katie Piper) chose to fund a $75,000 start-up program called "Mission Waco" to be led by Jimmy and Janet. Within the year, the ministry exceeded expectations, and CMC relocated oversight to Cross Culture Experiences. The foundation has continued to help support the ministry from its initiation.
Mission Waco Mission World programs are built around three goals:
1) Empower: Through relationship-based, holistic programs among the poor and marginalized.
2) Equip: Through the mobilization of middle-class Christians toward "hands-on" involvement.
3) Engage: Through addressing systemic issues that dis-empower the poor.
As volunteers, interns and donations increased, and as local gaps were identified, additional programs were added to the existing children and teen programs. A board of twenty faithful men and women from different churches oversaw the direction.
In 1993, Mission Waco purchased and renovated the carpet store next door to the Dorrell's home for their program center and poverty simulation site. In 1994, a more challenging building opportunity came with the purchase of an old bar and the acquisition of an abandoned shopping center at the corner of N. 15th Street and Colcord Ave. The corner had once been a thriving location for the neighborhood with a grocery store, beauty salons and the Texas Theater. But as people of minority races and lower incomes moved in, the local businesses, residents and some faith communities moved out to the west side of Waco and other suburbs. Negative businesses including street drugs and prostitution replaced the formerly thriving area.
There were now four bars and a porno theater ("The Capri") spreading darkness in the area. Mission Waco immediately gutted the six buildings and began renovating them as funds and volunteers allowed. When completed, Jubilee Center was opened to offer a variety of empowerment programs for the community, such as job training and G.E.D. classes. The facility included a computer lab, a 28-foot climbing wall and a 200 seat theater for dance, drama and neighborhood meetings. The adjacent building, also a former bar, became known as "Alpha Quest" for children and youth programs. Mission Waco won one of five national Audrey Nelson Community Development Awards for the restoration and positive impact of the facility.
An outreach Bible study established in 1992 for five homeless men who slept under the Interstate 35 underpass near Baylor continued to grow. Within a few years, the group had grown to include significant numbers of the poor, marginalized and unchurched, and "Church Under the Bridge" was established. Though initially connected for a few years, Mission Waco separated the church away from the nonprofit to allow it to grow as its own incorporation. The church still meets under the same interstate bridge and involves around 300 people each week. Mission Waco has hosted its "Friday Morning Breakfast" with these folks at First Lutheran's facility since 1993.
Due to growing numbers of homeless people who had no safe place to sleep, Dorrell gathered four other pastors together in 1994 to create Compassion Ministries as another separate nonprofit for homeless women, children and families. However, it was not until 2004 that Mission Waco chose to establish a chronic homeless shelter, called My Brother's Keeper. In 1995, another ministry called "Manna House," a ten-bed residential alcohol/drug recovery home was established by Jason Pittman of Mission Waco. The goal was to target very low-income persons, including the homeless who could not access other treatment programs. A transition house named "The Lighthouse" for those completing the program was established on North 15th Street.
Founded by Dr. John Perkins and Dr. Wayne Gordon, CCDA (Christian Community Development Association) became an early source for Mission Waco's mentoring and encouragement. Through national conferences and workshops, each year Mission Waco learned more about urban ministries and Christian development in cities around the nation. Practitioners from all over the country provided guidance with each new step.
In 1997, Christian Mission Concerns donated an 18-unit apartment complex on Washington Ave. After being completely remodeled, these units now comprise The Ark Apartments, where mixed-income Christians reside in a program-based living center with spiritual mentoring and accountability.
The youth program thrived in the late 1990s and early 2000s with some grant funding. "Knowledge Knights," step dancing, Bible study small groups, field trips and summer camp in Colorado were the norm. The Wellspring Scholarship continues to provide small scholarships to students from our programs who want to go to college—and introduces the steps to college earlier in the youth program. Freak Scene Cafe and Jubilee Theater were popular hangout spots for the alternative music crowd in Waco.
The Women's Group met for more than 10 years on a mostly weekly basis to provide a place of service and love between diverse women of Waco. Much laughter and many tears were shared over the years as they met for Bible studies, short trips and creative activities.
In 1999, the decision was made for Church Under the Bridge to become a separate entity from Mission Waco, as it was no longer a simple Bible study, but a fully functioning church. Each September—usually the third Sunday—CUB and Mission Waco continue to celebrate together with Mission Waco's "Walk for the Homeless" ending at the CUB worship and anniversary service under I-35. Urban Institute was created to offer a nine-month educational/experiential internship in urban ministry (this program ran from 1999 to 2003). Interns served and studied for seven months here in Waco, went on a mission trip to Mexico City and then spent two months serving in a major U.S. city.
In 2000, Mission Waco helped establish Waco Community Development Corporation (CDC) as a separate 501c3 nonprofit (now called Grassroots). The purpose of this nonprofit is to provide safe and affordable housing for the poor and to attract and encourage middle-class Christians to return to the area. Mike Stone was hired as executive director in 2001. The organization also seeks to help bring new economic development to our city.
The main offices were expanded and moved to the Jubilee Center in 2001. This move also freed up space at our original building to expand the social services for the homeless. Manna House had closed in 2000 for renovations and restructuring. The new Manna House program, developed by Recovery Director Pam Stelk, opened in August 2001.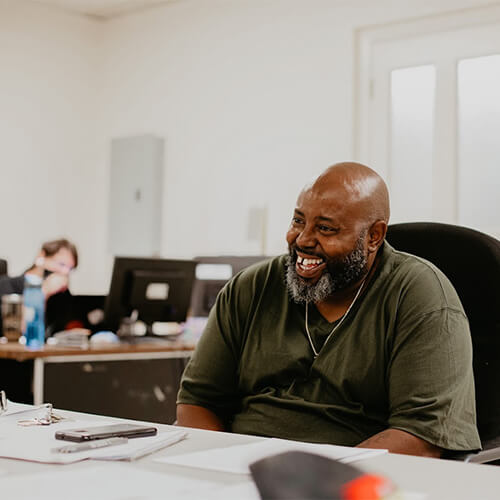 In 2002, through the generosity of the Meyer Foundation, Mission Waco was given a building for our children's program. The ROCK (Renewing Our Children's Knowledge) was born! "The Other Side of Waco" tour was added in 2002 to offer people a chance to learn and see issues related to poverty and redevelopment in north, east and downtown Waco (this 1.5-hour driving tour continues to be a great entry point to Mission Waco and an educational tool for many groups from churches, universities/colleges, schools and organizations).
Our retail space at 1817 Franklin had been operated as The Storehouse (a mixture of used building supplies and perpetual garage sales) for several years until 2001. It was renovated in 2003 as The Clothesline, a stylish boutique selling women's clothing (provided by donations from individuals and area retailers). Profits from The Clothesline help offset the cost of our Manna House program. The Voucher Center was relocated to the back of the warehouse area, and that space is used to distribute clothing to men, women and children.
My Brother's Keeper (MBK) shelter for emergency housing for chronically homeless adult men and women opened in December 2004, with transitional housing (partially funded through a grant from Housing and Urban Development) added in March 2006. In January 2005, Mission Waco opened the "Meyer Center for Urban Ministries," a former church in downtown Waco that provides assistance and social services for the poor. Through the generosity of the Paul and Jane Meyer Family Foundation, the building was purchased to help create a "one-stop-shop" for the poor and marginalized in the community. Showers, laundry, clothing vouchers and shelter vouchers are provided each day. This is also the location for the MPowerment program classes that include topics such as computers, job readiness and job searching.
In 2005, the Mission Waco Health Clinic began two nights per week, serving the poor with acute care by volunteer doctors, dentists, nurses, chiropractors, orthopedic doctors, etc. Later the local Family Health Center also opened a fully renovated day-time clinic in that space. House of Dignity, a women's residential rehab, also opened in Fall 2005, but later closed in 2007 due to lack of funds. The HOD property was used for intern housing for several years and became the Men's Permanent Housing program in 2010—this is a boarding house atmosphere for single adult men.
On January 9, 2006, World Cup Cafe, the 42-seat corner restaurant at Jubilee Center (1321 N. 15th at Colcord), opened with specialty coffees and pastries. On January 31, breakfast and lunch became the norm. On February 14, the cafe held its official Grand Opening. The World Cup Cafe and Fair Trade Market not only offers coffees and fair-trade gift items from around the world but also functions as a gathering place in the community while providing training in the foodservice industry.
The youth program was redesigned to focus on high-risk youth. The youth center (formerly "Alpha Quest") got a well-deserved makeover in 2007 to become a great hangout place for teens with video games, a pool, foosball, weights, computers, and a library. A recording studio was added to reach the older students who have a lot to say but often don't feel like they have an outlet. Mentoring in the alternative school and lock-up facilities provided the opportunity to connect with teens/young adults, including some involved with gang activity.
In 2010, Galveston Urban Ministries (GUM) was launched through a start-up grant by Christian Mission Concerns by Mission Waco to serve among the poor in Galveston, Texas. Josh and Danielle Dorrell lead GUM, and GUM is now a separate 501c3 with a local board of directors in Galveston. Also in 2010, the Jubilee Theater renovations were completed and thus began an exciting period of live plays, special performances, and theater camp in our neighborhood. The Fair-Trade Market was expanded and the cafe and theater were connected. Meanwhile, the massive earthquake in Haiti brought worldwide attention to the island. Many donors chose to give to us because of our established relationships in Haiti, and as a result, the work in Haiti increased. Seth and Sarah Dorrell and their daughter Finley moved in 2011 to Ferrier to lead our partnerships there, though they returned a few months later due to Seth's health.
Mental health services were added in 2011 at the Meyer Center through a partnership with Baylor's psychology department. Other volunteer counselors also help at the Meyer Center. The "12:2" relapse prevention group began meeting weekly at Meyer Center. As part of our growing commitment to holistic ministry, Urban Expressions visual arts studio launched at the Jubilee Center to offer art instruction to children, youth, and adults. Prelude Gloria, a classical music instruction program that also includes a service component, came under the umbrella of Mission Waco from 2011-2012.
Celebrating twenty years of ministry in 2012, the board of directors adopted a name change to Mission Waco, Mission World, Inc. to better reflect the purpose of the organization. Mission World includes all the work with our national partners in Haiti, Mexico City and India. Two new programs began in 2012: Six-Eight Technologies (name changed to J.A.M.E.S in 2014 for Justice and Mercy Engineering Society), to connect engineers with practical problem-solving opportunities in third world countries. The Legal Services Program offers legal assistance clinics to help those facing various needs like landlord/tenant or immigration issues. The Fair-Trade Market expanded again in 2012, allowing more display space for an increasing variety of gift items, as well as more seating for the cafe and special events. The annual School Supplies Store and Christmas Toy Store were reorganized to coincide with Parent Resource Nights so that low-income parents can be more aware of resources for their families as well as getting an 80% discount on school supplies. The "Daniel Butler Memorial Fund" was created by Daniel's family and friends in memory of his love for and talent in visual arts, and the fund is used to enhance programming in our Urban Expressions art program.
The "Seth Dorrell Memorial Fund" was created in 2013 by Seth's family and friends in memory of his commitment to economic development in the poorest areas of the world to enhance the work of Mission World in areas of Haiti, Mexico, and India. In just nine months, we lost Seth as well as Jackson Nelson (one of our long-time partners in Ferrier) and Tony Villafana (one of the original overnight monitors of MBK). The "Chapel @ Meyer Center" renovations were completed to improve the marketing of the rental space for weddings and other events to help offset some of the building expenses of the Meyer Center. A new parking lot was added along Colcord to serve the World Cup Cafe and Fair-Trade Market and Jubilee Theater customers.
Texas Christian Community Development Network was created as a separate 501c3 by Jimmy and other like-minded CCD leaders to bring healing and hope to disadvantaged communities, neighborhoods and residents of the Lone Star State by connecting, educating, training and advocating for the poor and marginalized in Texas. The No Need Among You annual conference is a highlight for many churches and nonprofits in Texas and is a key training/inspirational event for MWMW program directors, board members and volunteers who can attend.
The Ark Apartments courtyard got a facelift with a new patio and playground. Our youth job training program leveled up in the summer of 2014 with the addition of the "World Bowl" food truck in the new parking lot behind World Cup Cafe—offering a basic chicken and rice base plus a choice of sauces representing Haitian, Indian and Mexican cuisine. James Wilson passed away in early 2014—he was an inspirational man—a graduate of MBK and Manna House who worked full-time elsewhere but continued to get up very early to cook breakfast five days a week for MBK residents, as well as serving as manager of our Men's Housing Program.
In 2015 a new deck behind the youth center was added by local Eagle Scouts. We purchased a food truck that was renovated and called "Urban Edibles," with plans to build on what took place the previous summer. Staff members from the Meyer Center began working with other citizens to encourage businesses to adopt "fair chance hiring policies" to improve job opportunities for people with a felony on their criminal record. The "Jerry Johnston Creative Arts Memorial Fund" was created by Jerry's family and friends in memory of his commitment to the arts and people in need. The fund is being used to assist low-income children, youth and adults with access to art, dance and music lessons as well as field trips to performances. The old Safeway grocery building was purchased in August 2015—it had long been a site for some variation of a convenience store and one-liner games—but was a key piece of redeveloping the corner of N. 15th & Colcord. The Dwyer Group company led fundraising for the "Light Up Ferrier" project in Ferrier, Haiti providing a small solar-powered LED light panel to 800 homes. Each family who received a light had participated in community service projects arranged by people in the village. Many women in the families commented on how they will no longer have to use smoky kerosene lamps to provide light at night—which improves lung health and safety for their family members. We were also awarded a grant for providing Youth Job Readiness and Placement.
In 2016 plans were firmed up for remodeling the old grocery building into Jubilee Food Market, to address the reality of our neighborhood being a "food desert" with a lack of fresh foods and affordable groceries for purchase. "OASIS shares" were available for $25 each for people to invest in the new store, and federal and local grant applications were turned in—with hopes that enough funds could be raised. In the spring our theater program middle schoolers won first place in an improv theater competition! It was their first competition ever, and they were up against 30 other teams. Jubilee Park was blessed with a new half-court basketball court which is used consistently by members of our programs. By the time Jubilee Food Market's grand opening rolled around on December 1, 2016, 362 donors had given a sum of $653,133 in cash as well as $255,329 of in-kind donations totaling $878,462! We were humbled by the response, but not surprised as we watched God open door after door. The parking lot was full for the ribbon-cutting, which included the Brook Avenue Elementary School choir and lots of neighbors.
2017 started with the groundbreaking for Urban REAP (Renewable Energy and Agriculture Project) next door to Jubilee Food Market. Green Mountain Energy's "Sun Club" provided a $234,000 grant for this project, which was combined with funds from donors and the Seth Dorrell Memorial Fund. "The Next 25" capacity campaign kicked off at the 25th Anniversary banquet in February. Focus groups including donors, program participants, churches, city leaders, volunteers, board members, staff and others met to listen and give feedback on some of our dreams for the future. Over $2 million was pledged for a 5-year period. Expansion of the ROCK children's center started in July as part of The Next 25 funded projects.
John Calaway became our new executive director in January 2018 as a part of an extensive succession plan. Jimmy Dorrell remains President Emeritus and continues helping with the Jubilee Food Market and other development projects. Fundraising for CORD renovations kicked off in January 2018. A foundation matched up to $220K to reach the renovation fundraising goals. The ROCK expansion was completed in February 2018. The Next 25 funded some additional staffing needs and contributed to the purchase of another van. In 2018, more than 2,500 volunteers served over 60,000 hours across ALL program areas. Not to mention the 8,000 hours given by 2,000 people in groups coming to Mission Waco Mission World from Waco and across the nation.
In 2019 we had 33 full-time staff members and approximately 43 part-time staff members.
Our annual fundraisers include our banquet (February), Style Show (April or May), Champions of Service Breakfast (August or September) and Golf Tournament (September or October). Race ONE 5k and Fun Run (Springtime) started in 2012 and continues to bring the diversity of the city together for a fun event in our neighborhood.
Throughout our entire history, Mission Waco Mission World staff and volunteers have worked hard to cultivate hands-on relationships with the poor, local churches, and the community. The call to bring good news to the poor has been a driving force since day one. The desire to create a biblical base for empowering compassion is still at our core. God has birthed, blessed, and sustained this venture through the years.
In the last couple of years God has brought several different donors who have made a few new programs possible, like the Street Sweep Employment Program, which is designed to employ the homeless to clean up over 300 different properties in the downtown corridor. These individuals make a livable wage and after three months find permanent housing and full-time employment elsewhere. We have also expanded our Wellspring scholarship program to include full-ride scholarships to institutions providing trade-focused degrees. God continues to inspire our community to be creative and innovative in how it addresses needs within our neighborhood.